Hello There!

Ready for Financial Inspiration and Motivation?
Here is what's Inside:
​From Broke to $15 Billion

1000% Leadership Hack

Having Big Goals Can Suck Big Time

Andrew Carnegie Big Trouble In Pittsburgh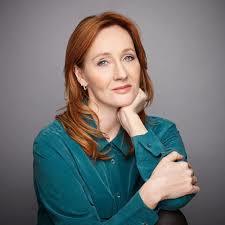 Harry Potter Author Endured Much Hardship
Some assume that successful, high-profile people have always lived a comfortable life. 
This is not the case when it comes to well-known British author, J.K. Rowling.
While her popular Harry Potter series has gained global notoriety, the gifted storyteller has had to overcome a series of challenges.
Before ascending to the pinnacle of fantasy fiction, the author's private life was marred by a tumultuous marriage.
She experienced domestic abuse during this time.
The rocky union lasted only a year, but Rowling, at age 27 (five years before Harry Potter was first published), suffered physical abuse at the hands of her ex-husband.
As a single mother, she had minimal financial resources and, at one point, lived on welfare.
During that time, her mother passed away from multiple sclerosis, and Rowling's life reached a devastating low.
But while she was down, she was not out and somehow managed to pick herself up off the ground and rebuild a healthy, fulfilling life for her and her daughter.
She began jotting down notes and drafting the story that became the first Harry Potter tale.
The adversity for J.K. was not yet over.
The first Harry Potter book was scoffed at by the big UK publishing companies.
Despite the setback of rejection, she would not be deterred. Rowling finally got a publisher to buy-in, and the magic of Harry Potter exploded across the globe.
Today, the Harry Potter empire has grown into a $15 billion franchise.
Courage certainly embodies the life of J.K. Rowling.
She overcame many personal obstacles on the road to making a difference in the world.
Her novels continue to entertain millions and enrich the creative minds of youth and adults alike.
Her success can be attributed to her remarkable perseverance.
A never-say-die mindset propelled her to become the legendary author she is today.
Determination of that magnitude is an intangible, immeasurable quality, which can make some of the most disadvantaged people develop into the most successful people.
Francisco D'Souza was a great leader during his 12 years at cognizant.
He became CEO when just 39.
During his twelve years at the helm, revenue grew from $1.42bn to USD 16.1bn, which was over a 1000% increase.
The share price more than quadrupled, and the company joined the ranks of the Fortune 200 and NASDAQ 100.
D'Souza transformed the company from a small IT services company, primarily based in India, to a global IT consulting powerhouse that has outperformed Accenture and IBM.
He made Cognizant the leader in their field of business.
The key to D'Souza's success was the continued expansion of the company's capabilities.
To build new capabilities, he used three main strategies:
First, he created a culture of leadership development.
"The most critical capability you can have is your ability to develop leaders".
He used small size business units.
Small units increase the opportunity for leadership and delegation.
Second, he filled capability gaps through strategic acquisitions.
 As CEO he has presided over 40 acquisitions.
The biggest was the $2.7bn acquisition of TriZetto.
Lastly, he built a culture of experimentation.
He was famous around the office for buying every new personal business gadget.
He brought this enthusiasm for testing to the company as a whole.
He created the Cognizant Accelerator.
A system that established the company to create new technology and systems.
The leadership culture D'Souza  built makes them a  company to watch for the future.
They have  plenty of room for growth.
Sponsored:
Do you want to get Stock Research at a Low Price? 
Most of us here at Finance and Markets are just average folks trying to make it in today's crazy world.
We don't want to spend a fortune to find the best investments for our future.
Especially when you don't have to.
Finance and Markets Premium is a new service that finds the best stocks and does in depth research that help you make smart investing decisions.
You can try out the first report they made for just $14
Click Here to get the first premium stock report today.
Gratitude Tips For High Achievers

Having big goals can be painful. 
Sometimes it feels like reaching them seems impossible.
During those times, depression can hit you hard.
This is something I have had to deal with regularly.
Maybe you see yourself as being an achiever like me.
I tend to dream big and shoot for the stars.
This causes me to get discouraged because I seem to frequently falling short.
Through my pain I have discovered a secret weapon I now use to get me through tough times.
It's called gratitude.
When I struggle with massive failure and obstacles, gratitude keeps me going strong.
There are two ways that I do this.
1. Every night before I got to bed and when I get up in the morning.
I go through my gratitude routine, saying everything I am thankful for.
2. When I get hit with a depression attack, I stop myself in my tracks.
I then immediately begin to say what I am thankful for.
The first step helps me build a grateful heart.
The second step I use in emergency situations when things are coming down hard.
Being thankful helps you to take your eyes for a moment off of your problems.
For a period of time, you get to realize all the good in your life.
It is amazing how well you begin to feel when you shift your focus from your problems to what you are thankful for.
When you are feeling better, go back to focusing on your vision and goals.
Having big goals can cause pain, but it's worth it in the long run.
I hope this helps.
Labor Lessons From The Homestead Massacre
There was once a time when wealthy Americans were prospering.
They were accumulating wealth faster than their less-advantaged counterparts.
It was a time when tensions between average Americans and corporate were high.
And it was time when it seemed change was inevitable as a rising tide of discontent swept through the American workforce.
This may sound familiar, but I'm not talking about today.
I'm talking about a time more than a century ago when the American Industrial Revolution was at its peak.
Carnegie and his ruthless accomplice, Henry Clay Frick, were squeezing every penny from their businesses.
This was done all at the expense of their workers.
One such example is the harsh working conditions caused by Carnegie's plan to modernize Homestead Steelworks.
The attempt ended in disaster and tragedy.
The laborers experienced longer hours, increasing production, and a cut in pay.
These actions drove the laborers over the edge.
They wanted better wages, better conditions, and more safety.
Nine percent of workers could be expected to die on the job each year, and that was not acceptable any longer.
The new conditions were rejected by the Homestead workers through a strike.
Frick locked the striking workers out of their jobs.
He hired a new workforce of lower paid workers and an army of security agents to guard them, the Pinkertons.
10,000 angry workers, and the army of Pinkertons turned the Homestead Strike into the Homestead Massacre.
The fighting was so intense the Federal Government had to step in.
At the end of it all Carnegie and Frick emerged victoriously.
While the union was able to stand up in defense of workers' rights, they were unable to accomplish their goals.
Despite the setback the workers were not done fighting.
In later years the steel workers union came in and improved conditions for the workers.
The lesson for managers is this – a happy workforce is the surest way to increase productivity.
For workers to have success, they must have reasonable demands.
In order to maintain peace, both parties must strive to resolve issues, as well as, be willing to compromise.
There is usually a middle-ground when people look out for the benefits of each other first.